Source: IANS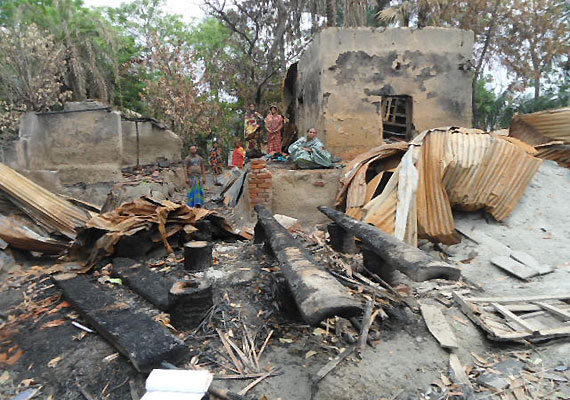 Dhaka, Mar 4: Attacks on Hindus signify a "sinister trend" and the government must deal with the situation firmly, said a Bangladeshi daily Monday, the second day of Indian President Pranab Mukherjee's Dhaka trip that takes place amid violence over the death sentence to a top Islamist opposition leader.
"We note with a great deal of concern that the recent eruptions of political violence have been marked by some attacks on members of Hindu community with their houses and temples vandalised," said an editorial in the Daily Star.
Reports of such incidents have come from different areas of Noakhali, Chittagong, Barisal, Bagerhat and Gazipur.
"That this is very unfortunate as well as outrageous is saying the least. We condemn the perpetrators of such cowardly and despicable acts in the strongest term. The government must deal with the situation firmly to nip the sinister trend in the bud," the daily demanded.
It pointed out that since the members of minority community are vulnerable to the machinations of trouble-mongers, necessary precautionary measures should have been put in place earlier on to pre-empt any untoward incident.
"The government must fill in the gaps in its security arrangements as it cannot afford to be caught unprepared in the future. We urge the government to ensure reinforced police presence, especially in places that are inhabited by the people of minority community," the editorial said.
Mukherjee began his three-day trip Sunday. The violence cast a shadow on the Indian president's visit with opposition leader and former prime minister Khaleda Zia, who was to meet Mukherjee Monday, calling off the meeting, citing security concerns.
The daily went on to say that as a society having homogenous ethnic texture, communal harmony has traditionally been Bangladesh's hallmark.
"So, the violence that has happened might have been a ploy of the vested quarters to smear the secular image of the country."
It demanded that the government should now stand by the victims, maintain constant vigil by law-enforcers as well as by local people to thwart any further attempt to attack them or cause communal disharmony.
"Every specific instance of vandalism against the minority community, their houses and religious places must be probed to identify the culprits and take measures to bring them to justice. At the same time, the victims need to be compensated so that they are able to rebuild their lives," the editorial added.